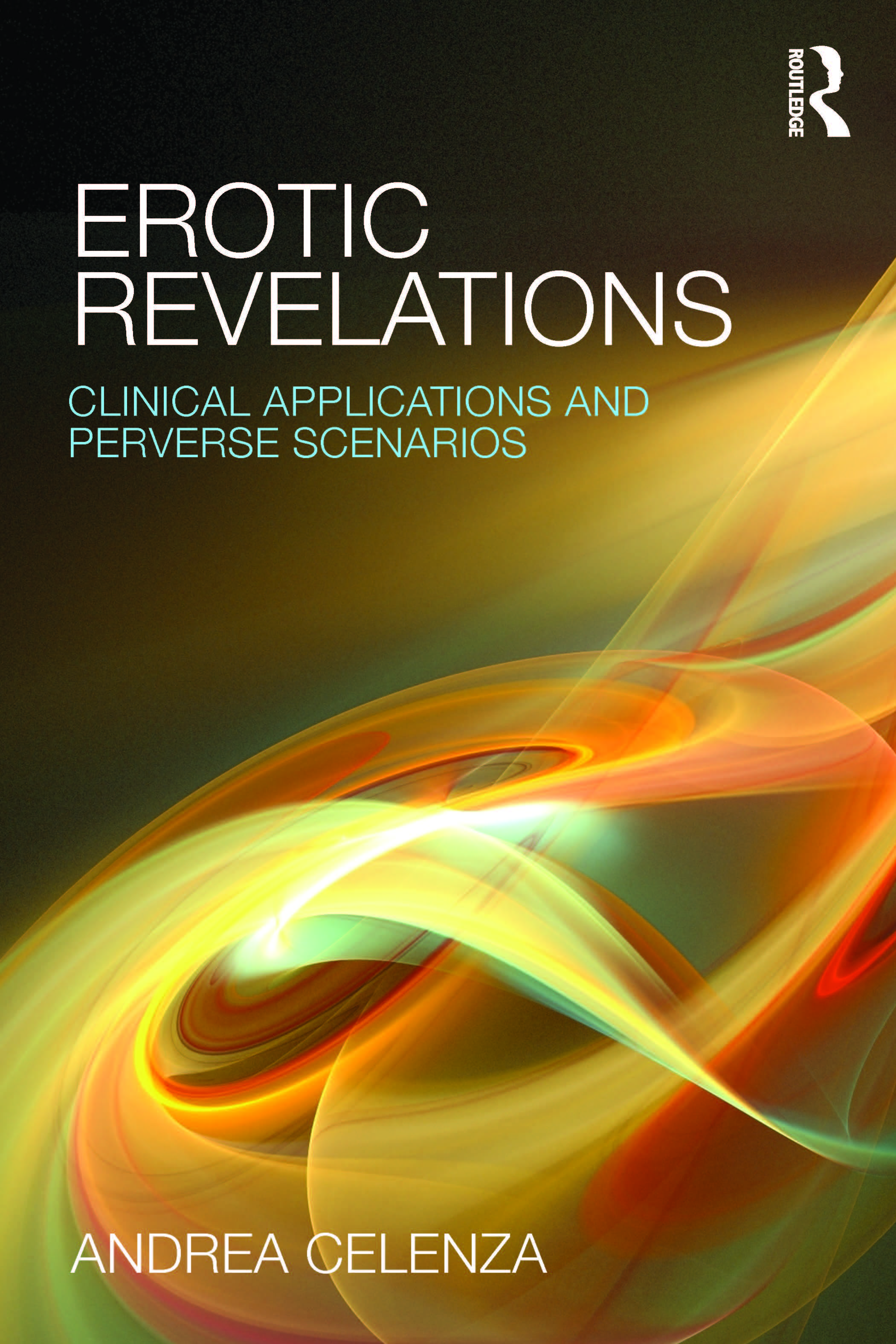 by Andrea Celenza, Ph.D
This book is about erotic desires and fantasies, how our sexuality expresses our inner being and defines the ways in which we engage in the psychoanalytic situation. I am using erotic life in its broadest sense – the way we desire and love or desire to be loved on all levels, including within our sexual being.  We are drawn to the hidden and mysterious; we are tempted to push boundaries, even in the most permissive contexts. Erotic experience exemplifies this urge. What is the nature of this push, this urge to get beyond the immediate and concrete? What are we looking for, what does it feel like? These are some of the questions that pertain to the present exploration into erotic life in the psychoanalytic and psychotherapeutic situation.
In large part, this book addresses the 'desexualization' of the psychoanalytic field and proposes several reasons for this phenomenon. It is, in part, an attempt to explain and correct this desexualization, along with offering recommendations to practitioners for dealing with erotic material when it arises. For example, it has been said that psychoanalysis is all about sex; except for sex – that's about aggression. This workshop aims to 'put sexuality back in psychoanalytic theorizing' in both early formulations (as in the maternal erotic) and to delineate a place for pure erotic longing, along with the illustration of the variety of forms of homo-erotic and hetero-erotic desires. My focus on the erotic nature of the therapeutic situation is an effort to reclaim sexuality as one of the many nexes that are of central concern to our patients. At the very least, I am asserting that erotic transferences of whatever shape, should make their way into every thorough-going analysis or therapy.
Throughout the book, the framework of felt-experience (embodiment), multiplicity, and contradictory gender theory is employed to propose ways in which binarial constraints (e.g., feminine and masculine) may be transcended. I propose that symptoms, inhibitions, and anxieties often result from the individual's unconscious overcommitment to one pole of the masculine/feminine binary, rather than a more balanced reckoning with the social and cultural demands associated with each.
The book is written in two parts, with clinical, theoretical, and technical discussions in each chapter. Part I presents the varieties and meanings of erotic transferences and countertransferences that are common in clinical situations. Each chapter focuses on a different manifestation, along with thorny technical dilemmas that confront the psychoanalytic clinician. Case illustrations of erotic material are used as examples of phases in treatment as well as moments of defensive impasse. These include the management of aggression, underlying merger fantasies, the uses of countertransferences (in multiple forms), and the dilemmas surrounding self-disclosure.  There are cases of both genders and the likely scenarios that emerge when the analyst is female are emphasized.  Process material is examined from both classical and contemporary perspectives in terms of theoretical understanding and technical considerations. Countertransference difficulties, including the handling of erotic countertransferences are discussed.
In Part II, the chapters focus on 'perverse scenarios' with the aim of reconceptualizing and restoring the term perversion into the clinical lexicon. By viewing perversion as a quality of relating rather than a specific action or behavior, the term is both narrowed and reformulated so that it may be (paradoxically) more broadly applied.  I define perversion as characterized by the impact of its constriction and constraint, the hidden and unbidden (Stoller, 1986).  Fundamental to the construction of perverse modes of relating is a means/end reversal (Stein, 2008), i.e. the use of constructive means for destructive purposes (either to the self or the other). Finally, I discuss the clinical observation that perverse modes of relating by males are often aimed at a perceived dangerous subjectivity of the other while females tend to perceive a dangerous subjectivity within. These dangers can be understood as organizing, delimiting, and unconsciously choreographing the dual capacities of receptivity and potency. Perverse scenarios can be viewed as unconscious enactments that serve to manage and control some imbalanced reckoning with this binarial construction and the ways in which the polarities have come to define one's embodied and gendered subjectivity. Finally, I propose a schema of perverse scenarios that categorize 1) the localization of perceived dangers (within oneself or in the other), 2) the context (either dyadically or triadically conceived), and 3) degrees of severity (where a rigidly enacted perverse scenario may come to serve a transitional function as the individual's capacities for growth expand).
Table of Contents
Introduction:  Transcending Binaries
Encountering Sexuality/Being

The Binary is Not Even Binary (Receptivity/Potency)

Becky
Discussion
Part 1:  Erotics Embodied: Varieties and Meanings of Erotic Transferences 
Desexulization in the literature and practice
Intimacy Embodied
Eros Embodied
Erotic Transferences and Countertransferences
Gender Embodied, return perversion & phallus
Opposite Gendered Selves
Chapter 1: Maternal Erotic Transferences and Merger Wishes
The Maternal Erotic
Longing for Sameness and Merger Wishes
Julia
Chapter 2: Maternal Erotic Transferences: Engaging the Mother Within
The De-sexualized Maternal Transference
Michael
Unrequited (Analytic) Love
The Temptation of the Maternal/Containing Transference
Chapter 3: Erotic Transference and the Role of Aggression
Michael, continued
The Sexualization of Aggression
Murderous Wishes
Continuing Resolution
Discussion
Aggressive Erotic Moves
Chapter 4:  The Guilty Pleasure of Erotic Countertransference:  Searching for Radial True
Comfort and Sexuality
Contacting Me: The Little Girl Inside
The Development of Erotic Countertransference
Multiplicity, Lost Selves, and Opposite-Gendered Selves
The Opposite Gendered Self: Contacting 'Not Me'
Discussion
Chapter 5: Erotic Countertransference Revelations
The Undisclaimable Analytic Frame
Maintaining the Frame in the Heat of the Moment
Comfort and Clarity with Erotic Language
Verbal Disclosure of Erotic Countertransference
Necessary Conditions of Erotic Countertransference Disclosure
Final Thoughts
Part II:  Perverse Scenarios Revisited 
Introduction
The Reformulation of Perverse Scenarios
The Perverse Quality of Relating
Means/End Reversal
Motives of Perverse Scenarios
Localization of Perceived Dangers in the Self or Other
Contexts of Threat
Degrees of Perverse Relating
What is Not Perversion?
Levels of Perverse Modes
Chapter 6:  Female Perverse Scenarios: The Objectified Self
Embodiment
From Embodied to Objectified Self
The Body as Fetish
Clinical Concerns
The White Swan as Objectified Self
The Fetishized Self or Other
Chapter 7:  Sadomasochistic Relating: What's Sex Got to Do With It?
Introduction
Clinical Illustration
The Eros in Sadomasochism
Conclusion
Chapter 8:  Fetishes, the Anal Universe and Other Fantasies of  One Person Relating
Introduction, foot fetish
The Man with a Boot Fetish
Behind Her Back
An Anal Universe
Conclusion
Conclusion: Positions of Subjectivity:  The Ineluctable Construction of the Self
Positions of Subjectivity